More Proof Government's Alleged Duty To Protect Is Arbitrary At Best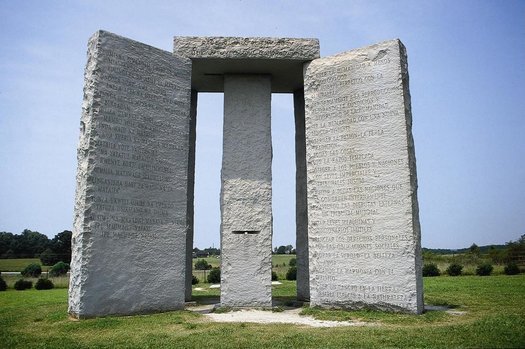 The Georgia Guidestones are a modern-day megalith erected in 1980 in Elbert County, Georgia, by a mysterious benefactor whose identity to this day has never been revealed.  The giant stone tablets contain a series of commandments that, among other things, call for maintaining a global population under 500,000,000.
It doesn't take a Doctorate in Mathematics to conclude that this number represents a more than 90% reduction in the world's current population.
Given the US Government's war on terror and purported stance against weapons of mass destruction, one would think this ought to warrant looking into. It is therefore curious that they have never issued a public statement or news of an official investigation into who is behind this veiled global death threat.
Leaving aside talk of the New World Order and of conspiracy theory for the moment, let's explore instead the notion that the Guidestone's very existence represents something of an obvious double standard. [This article originally appeared on Steemit.com. Continue reading here …]